Understanding the average CPM rate of a country is important to better understand the revenue opportunities of a website. In this post, we are going to discuss ad CPM rates in India across various ad types- display, native, video, and more. Also, we will talk about some quick fixes that can help you increase the overall ad CPM rate.
Understanding Network CPM Rates
CPM is the historical revenue of an ad per 1000 impressions. If the network uses a CPM rate, the eCPM is the same as CPM because each impression generates the same amount of revenue. However, if advertisers are charged on a cost-per-click (CPC) or cost-per-action (CPA) basis, revenue is not derived from impressions, so eCPM has to be calculated using click-through-rate and/or conversion-rate
Normalizing revenue into eCPM is useful for two auction situations:
It enables CPC and CPA flights to compete against each other and against CPM flights
It allows CPC and CPA flights that generate the most revenue to win the auction (instead of competing using their price).
Ad CPM Rates in India: Quick Overview
Display advertising is a method of attracting the audience of a website, social media platform, or other digital mediums to take a specific action. These are often made up of text-based, image, or video advertisements that encourage the user to click-through to a landing page and take action (e.g., make a purchase). The display ad CPM reaches its highest potential on a header bidding auction environment where an impression is sold to the highest bidder. For general purpose sites like news, entertainment, etc., display CPM is around USD 0.10 to USD 0.20. It can be more for niche sites and video ad formats. Continue reading the article to see ad format-wise CPM rates.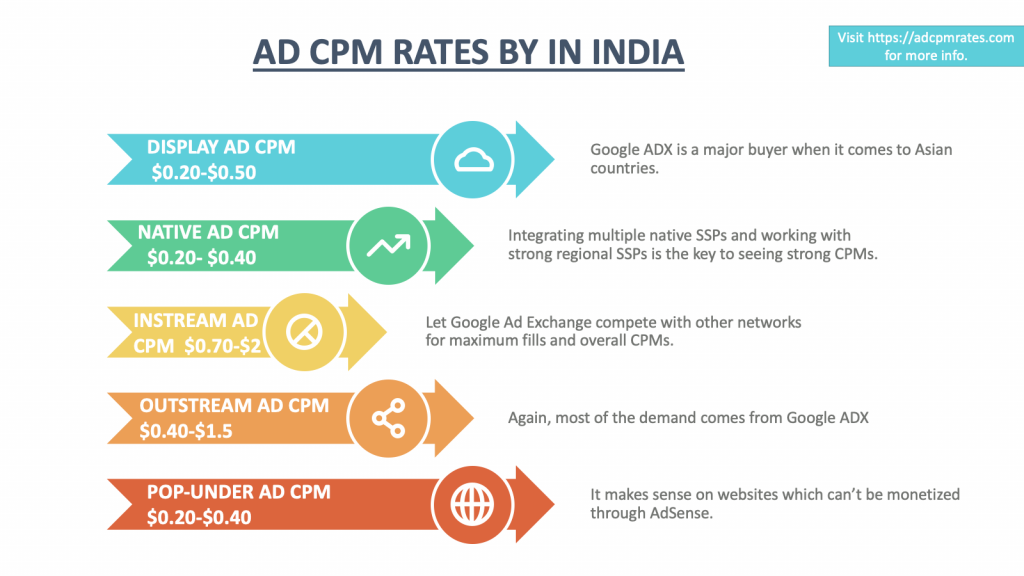 ADX CPM Rates in India
After ADX started the first-price auction, publishers witnessed some up-downs in their ad revenue. The ad exchange CPM rates range around $0.10 to $1 for Indian traffic depending upon the website niche. However, the top-performing ad units are 970×250 and 300×600. Here is a screenshot of ADX CPM from two of my websites. The higher CPM rates you are seeing are from a tech website while the low CPMs are from an education website.

AdSense CPM Rates in India
Google uses its technology to serve advertisements based on the content of the website, the user's geographical location, and a few other factors. There is no minimum traffic required to become a publisher. The network supports the display and video advertising types. Additional to display ad units, AdSense has link ad units, matched content ad units, in-article ad units, and in-feed ad units. Since the number of clicks drives the rates, you need to have an optimized ad placement to ensure the revenues are higher. It is usually USD 0.30 to USD 1 and more for specific niche websites. Revenues solely depend upon the type of website and content of your adverts. Here is a more in-depth article on AdSense CPM rates in India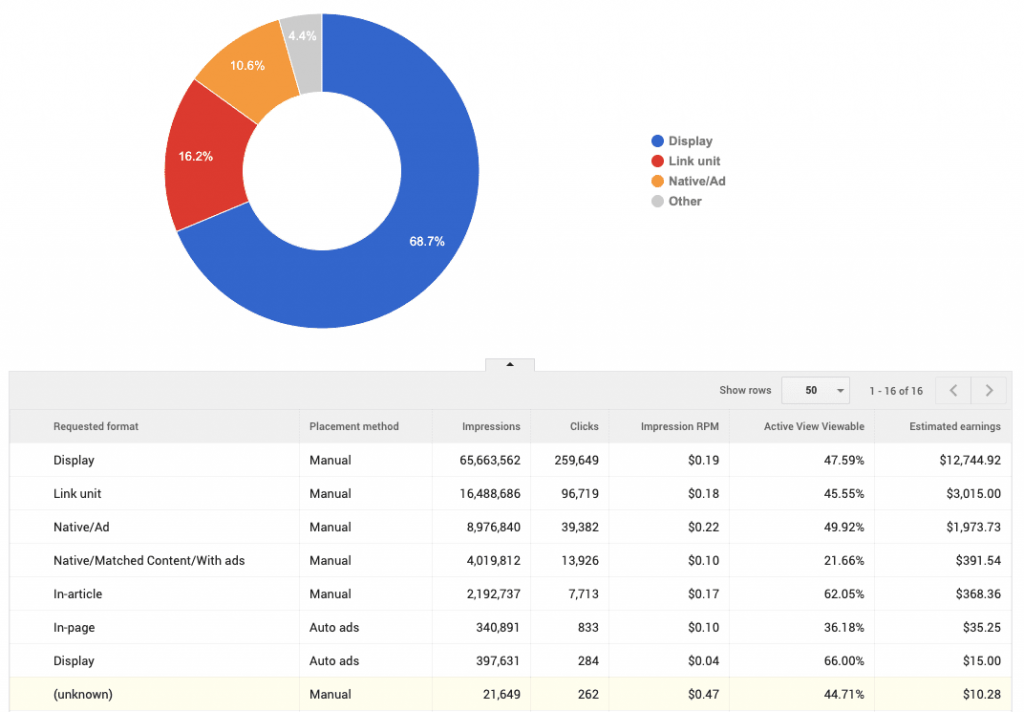 Native Ads CPM Rates in India
There a lot of factors that come into play while determining the CPM rates of native ads. If the native ads are contextually relevant, they end up being of higher CPC, the quality of traffic, and the advertiser demand. Every site has performance indices based on how they perform about the advertiser's ROI. This is an essential factor in determining the CPC rate of native ads. Even after such variations and dependence factors, overall Native ads can give a widget RPM of around USD 0.50. The usual CPC rates for native ad networks is around $0.02 to $0.03 for Indian traffic.

Video Ads CPM Rates in India
Establishing an average CPM for video ads is challenging for a few reasons. First, YouTube partners aren't allowed to share what they make from the program publicly – so YouTube CPMs are difficult to judge. This is specified in the terms and conditions (as it is with Google's AdSense program as well). Second, as explained in more detail below, there can be a big difference in the amount advertisers pay for an ad and the amount a content creator receives for each view of their video. Yet the average CPM rates vary from USD 1 to USD 3.
How to Increase Website CPM Rates?
Keep the ads relevant. Displaying ads that are somehow related to the subject matter on the page is a great way to make sure a targeted audience sees the advertisement of people. Athletic products, for example, can be successfully advertised on sites related to health and fitness. Because the audience has a known interest in the subject, you want to display ads that relate to their attention.
Conclusion
As the nation is moving towards a digital economy, more marketers will be venturing to online advertising, and the growth rate of online advertising in India is on the increase. Marketers have an array of options for online advertising in India, which includes display ads, video ads, native ads, newsletters, mobile ads, etc. The rate card depends mostly on the channel you're promoting and the ad type with the highest being for video ads and standard ad units.
I hope this article on ad CPM rates in India gives you an overall summary of the current CPM rates across the various digital ad formats. We will continue including new ad formats like VR, podcast, in-app, and others, so feel free to check back this article after a few days for the latest version.