This article has been penned down to discuss ad CPM rates in Indonesia. With ever-growing connectivity and a large population of net users, Indonesia has emerged as one of the world's leading countries to become home to internet advertising. As an emerging market, it offers excellent potential for Adtech companies to capitalize on their growth. The projected trends in the current market show Indonesia to be one of the top 10 countries to spend billions of dollars in online advertising in the upcoming years. Hence prominent media agencies, publishers, and app developers should focus on these markets. As a result, it becomes evident to study the CPM rates in Indonesia.
Auctions, Media Buying, and CPM Rates
Auctions are a delivery method to generate the most revenue for each ad impression. Effectively, rather than picking an ad randomly via a lottery system, it calculates the expected revenue (CPM) you'll make for each ad and selects the ad that'll deliver the highest return.
It's used when:
You have multiple advertisers with different bids.
You've set the expectation that bid amount will impact volume (versus guaranteeing a certain number of impressions/clicks)
You are charging on CPC or CPA (versus straight CPM or flat fee)
Your inventory is competing against RTB inventory.
There is a massive gap in inventory buying, rates, quality conversions, and more. So buyers are paying premium rates for some impressions, and a good volume of impressions are taken at flat rates. However, almost most of the time, these pricings and optimizations are determined by Google's algorithms (smart pricing) or other techniques that define the CPC or CPM rates on individual websites. So, based on the traffic, conversions, viewability, and other parameters, these rates change! Therefore, it is difficult to predict the CPM of a website entirely. Thus we will be sharing information about the network CPM rates for specific countries.
Understanding Network CPM Rates
Out of numerous ways of monetizing a blog, making money by showing ads has been an all-time favorite of publishers. But finding out the best ad network when there are so many out there is a big challenge for publishers. A good ad network is one that brings you top advertising revenue without hurting the user experience of your visitors. CPM (stands for Cost-Per-Mille) is an advertising payment model that suggests charging advertisers for every 1,000 impressions of his ad inside mobile app publisher inventory. It's the most common method for pricing mobile ads and the most popular among mobile publishers due to its focus on impressions and not clicks, which benefits publishers in a big way.
How to Increase Website CPM Rates?
Blend your text ads into the content of the site. Text-based advertising is very popular, but can sometimes be overlooked by website visitors. Blending the advertisements with font colors and styles that match the rest of your website will allow the ads to look like just any other content. Visitors will view the ads more as additional references than as advertisements and will be more likely to follow the link.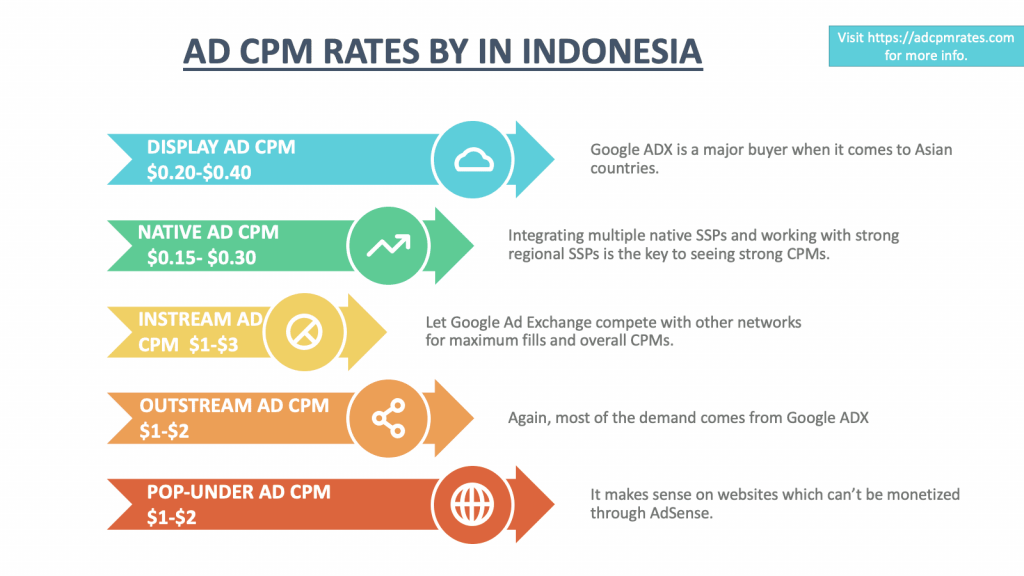 Display Ad CPM Rates in Indonesia
Display ads can be a main component in a marketer's paid advertising campaigns. Developing click-worthy images help directs a viewer to a landing page with relevant content about the brand or company. These ads not only can increase brand awareness, but they can engage or re-engage visitors to your marketing to help filter the visitor into your funnel to become a lead. For general purpose sites like news, entertainment, etc., the US display CPM is around USD 0.5 to USD 1.
ADX CPM Rates in Indonesia
Recently, ADX has moved to the first-price auction, and publishers witnessed some fluctuations in their ad revenue. ADX tends to perform best on sites that have high volume traffic and offers better opportunities for advertisers. The ad exchange CPM rates hover around USD 0.50 to USD 0.75 for Indonesian traffic.
AdSense CPM Rates in Indonesia
Publishers earn using a Cost-Per-Click (CPC) model, based on the number of clicks on the advertisement from the traffic of the website. If the CPC is USD 5, it means that every time someone clicks on the ad, the advertiser pays Google that amount of money. CPC varies based on the popularity of specific keywords and other factors. Google charges the advertiser and splits the revenue obtained with the publisher. The percentage shared is 68% if AdSense is used to display content ads while the share drops down to 51% if it is used for a search. Many website owners who want to increase their revenue with AdSense usually target words that have a higher CPC. CPM typically ranges between USD 1 to USD 2 in Indonesia.
Native Ads CPM Rates in Indonesia
Native ads continue to be one of the most popular in-app advertising formats and give a steady widget RPM of USD 0.50. Like banner ads, the CPM rates for native ads hugely vary and depend on the niche of the content, the demographics, and advertiser conversions. Publishers often find it challenging to choose the highest paying native ad network based on their traffic geos.
Video Ads CPM Rates in Indonesia
The video ad industry has exploded in recent years, as more publishers have started incorporating video content into their sites, and advertisers have embraced this medium as an effective way to promote their products and services. The CPMs are in the range of USD 3 to USD 7 for Indonesian traffic.
Conclusion
In this article, we have discussed the average CPM rates for Indonesian traffic for mobile developers, especially for in-app inventory. There is a growing demand for this inventory as most of the Asian countries are becoming mobile-first when it is coming to device usage and average usage time. Thus targeting users on mobile platforms is becoming easy for advertisers when compared to desktop and laptops. I hope the article gave you an idea of the CPM rates across various ad formats and segments like– native, banner, video, interstitial, and rewarded video. We will continue supplementing new ad formats like VR, podcast, in-app, and others, so feel free to check back this article after a few days for the latest version.