This article has been penned down to discuss ad CPM rates in Afghanistan. The media of Afghanistan includes printing, broadcasting, and digital. It is mainly in Dari and Pashto, the official languages of the nation. According to the Attorney General's Office of Afghanistan, "there are 1,879 active media outlets in Afghanistan which are called as one of the main achievements of the country in the past 18 years.
Auctions, Media Buying, and CPM Rates
To uniquely identify anonymous users, online advertisers today tend to make use of cookies, which are unique identifiers of specific computers, to decide which ads to serve to a particular consumer. Cookies can track whether a user left a page without buying anything, so the advertiser can later retarget the user with ADs from the site the user visited.
As advertisers collect data across multiple external websites about a user's online activity, they can then combine this information to create a picture of the user's interests to deliver even more targeted advertising. This aggregation of data is called behavioral targeting. Advertisers can also target their audience by using contextual and semantic advertising to deliver display ADs related to the content of the web page where the ADs appear. Retargeting, behavioral targeting, and contextual advertising are all designed to increase an advertiser's return on investment, or ROI, over untargeted ads.
Understanding Network CPM Rates
CPM (Cost Per Mille) is one of the original and still most common ways of paying for mobile ads. Primarily, this denotes the cost for 1,000 impressions of a particular advertisement. It's easy to understand and works with just about any ad format imaginable. For instance, most Facebook ads – including mobile video ads – are paid for through CPM pricing.
In a cost per click (CPC) campaign, an advertiser only pays each time an ad creative is clicked on. The idea here is that the brand is only paying when someone actively interacted with the ad by clicking on it. This is how the advertisements that appear on search engine results pages, alongside ads in retargeting campaigns, are paid for typically.
CPA (cost per acquisition) takes CPC one step further; not only does someone need to click on an ad, but they also need to take a designated action, like filling out a form or downloading an app, before an advertiser is charged. This pricing model is typically used by advertisers and marketers with ad campaign goals further down the proverbial funnel. Similarly, some campaigns – particularly for companies with an app-centric business model – work on a CPI (cost per install) basis.
Determining network rates can be especially tricky as they depend on multiple factors, one most potent being the geography. So let us see the rates in Afghanistan in this article.
How to Increase Website CPM Rates?
Consider geotargeting your advertisements. If you are part of an ad network that supports the feature, geotargeting allows you to serve ads based on the visitors' location. This will enable you to offer special promotions to visitors from a specific area or to make sure a particular advertiser's ads are only shown within the areas they serve. Geotargeting makes the advertisements more relevant to the user on a local level and can lead to higher click-through rates.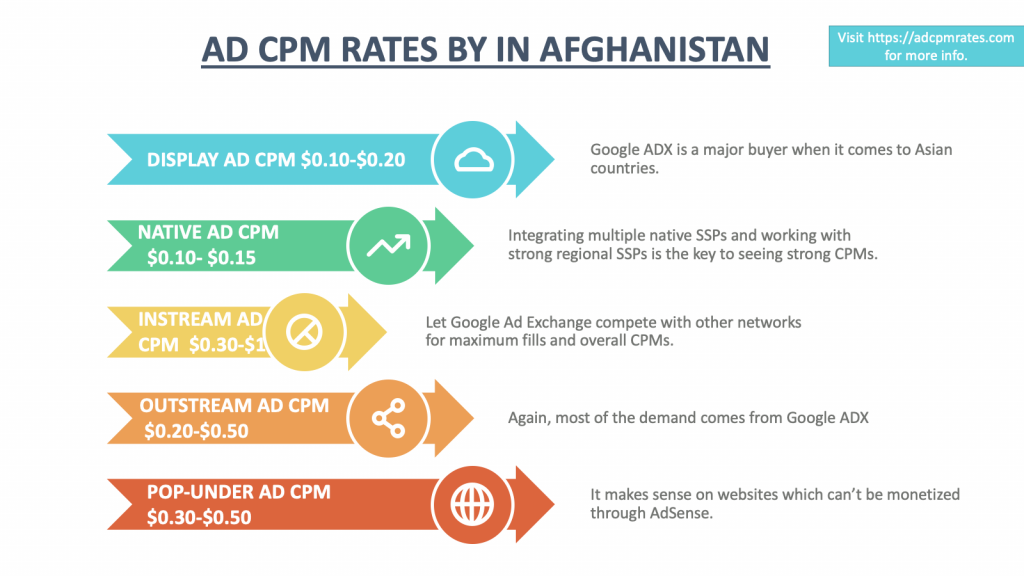 Display Ad CPM Rates in Afghanistan
Advertisers who run CPM ads set their desired prices per 1000 ads served and pay each time their ad appears. Publishers earn revenue each time a CPM ad gets served on their page and viewed by a user. CPM advertisements compete against CPC ads in the AdSense ad auction. The network displays whichever ad is expected to earn more revenue for the publisher. The fill rate is 100%. For general purpose sites like news, entertainment, etc., the US display CPM is around USD 0.05 to USD 0.10. Display advertising (banner advertising) is a form of advertising that conveys a commercial message visually using text, logos, animations, videos, photographs, or other graphics. Display advertisers frequently target users with particular traits to increase the ads' effect.
ADX CPM Rates in Afghanistan
Recently, ADX has shifted to first-price auction, and publishers witnessed some fluctuations in their ad revenue. ADX tends to perform best on sites that have high volume traffic and offers better opportunities for advertisers. The ad exchange CPM rates hover around USD 0.10 to USD 0.15 for Middle East traffic.
AdSense CPM Rates in Afghanistan
If the CPC is USD 5, it means that every time someone clicks on the ad, the advertiser pays Google that amount of money. CPC varies based on the popularity of specific keywords and other factors. Google charges the advertiser and splits the revenue obtained with the publisher. The percentage shared is 68% if AdSense is used to display content ads while the share drops down to 51% if it is used for a search. Many website owners who want to increase their revenue with AdSense usually target words that have a higher CPC. The CPC typically varies between USD 0.50 to USD 2.
Native Ads CPM Rates in Afghanistan
There a lot of factors that come into play while determining the CPM rates of native ads like Contextual relevancy, Site Score, Traffic Quality, and Advertiser demand. Native ads can give a steady widget RPM of USD 0.30. The rates can further vary depending on the traffic quality and the conversions for the advertisers.
Video Ads CPM Rates in Afghanistan
Establishing an average CPM for video ads is challenging for a few reasons. First, YouTube partners aren't allowed to publicly share what they make from the program – so YouTube CPMs are difficult to judge. Second, there can be a big difference in the amount advertisers pay for an ad and the amount a content creator receives for each view of their video. Video Ad CPM varies from USD 0.50 to USD 1 in Afghanistan.
Conclusion
The digital ad market CPM is still picking up in Afghanistan and other Middle East countries. Yet, we hope this article gives you an overall summary of the current CPM rates across the various digital ad formats, which includes a display, video, native. We will continue supplementing new ad formats like VR, podcast, in-app, and others, so feel free to check back this article after a few days for the latest version.