As a frequent user of AdSense, I have gained enough knowledge about the CPM rates and how it operates. However, I have also seen that there is not enough data present on the internet.  Here, I have pulled out some stats to share with you and you can gain some information about the CPM you can earn from Bangaladesh traffic. You should also check the tips mentioned in the end of this article which can help boost the overall AdSense earnings just with slight modifications.
AdSense CPM or CPC Rates in Bangladesh: Ad Size
While you might think that ad sizes are not that big of a deal, it is more important that you can think. On the Display Network, the websites that ultimately publish ads control the ad size that gets featured. So, if they wish to have banner images on sides or top or bottom, you cannot want to publish everything as half a page of ad. If you have the wrong size, you campaign will immediately be limited.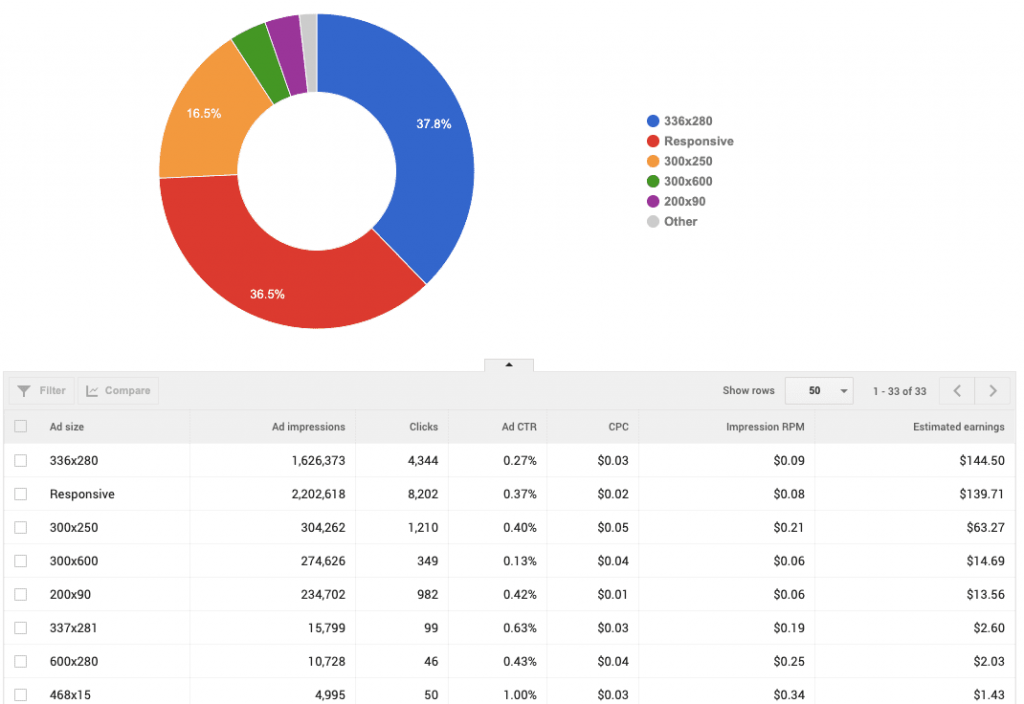 The CPM rates are largely dependent on Ad Sizes. You would want to  choose an ad size that can be accommodative and fit more ad sizes. Depending upon the CPM rate, the ad size best for Bangladesh traffic is clearly 300×250 for it renders the highest CPC rates.
AdSense CPM or CPC Rates in Bangladesh: Ad Format Types
The CPC and CPM rates that you're going to see here are for traffic from Bangladesh and the niche of the blog is educational. The common ad formats along with the CPM rates are included here.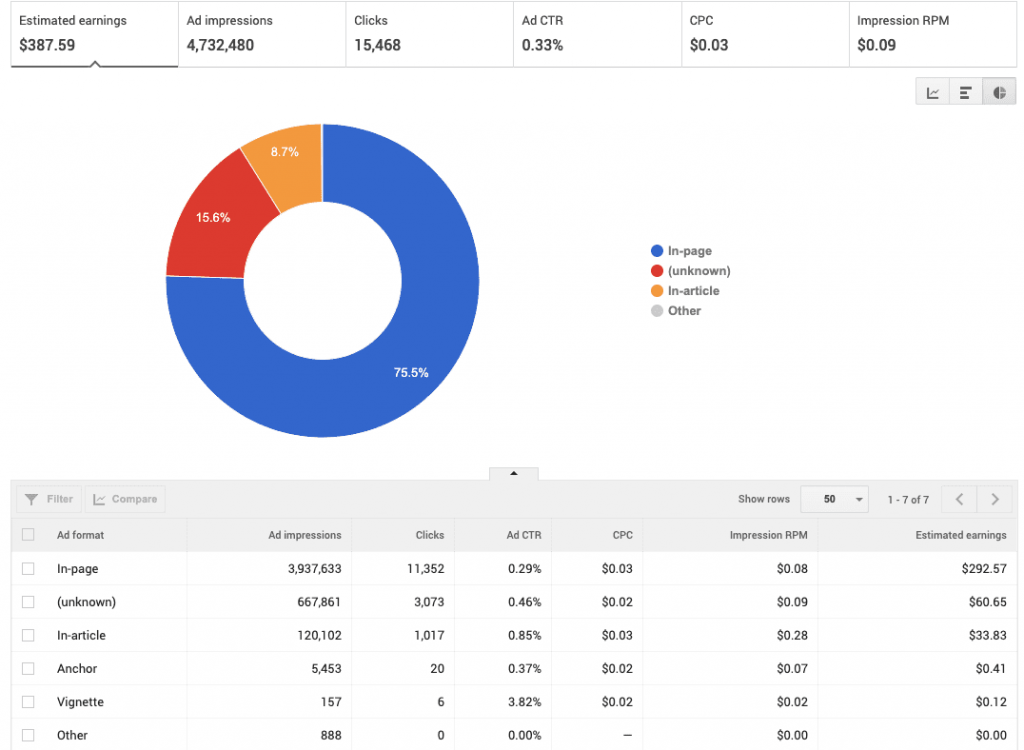 Here is  what you can be expecting from your Bangladesh traffic based on different ad formats-
In-page-  3 cents
In-article- 3 cents
Anchor- 2 cents
Vignette- 2 cents
The CPC rates seem fairly low irrespective of ad formats, but that is because digital marketing is yet to be fully familiarised concept there and as it penetrates better, it would skyrocket.
It is important to know that generally auto display ads have the highest viewability and yet has low CPMs because the click through rates are low. If you have enabled auto ads, you need to keep a check on CPMs that are being generated. The CPMs for many ad formats like display, native and in-article are so similar that they can practically be interchanged. The average for Bangladesh traffic is about 2.5 cents. However, depending upon the niche, it might increase or decrease.
AdSense CPM or CPC Rates in Bangladesh: Device Types
Device type plays an important role in deciding on metrics like CPM,CPC, CTR and such. It is explicit that some campaigns do better on desktop while some are good on mobiles and depending upon that, the demand from the advertisers vary. It is given that it might also lead in some fluctuations in CPC. The CTR from mobiles are very different from that of desktop. Here, you will find an RPM report, focusing of device types. Generally, the CPM for desktop is higher in comparison with mobiles.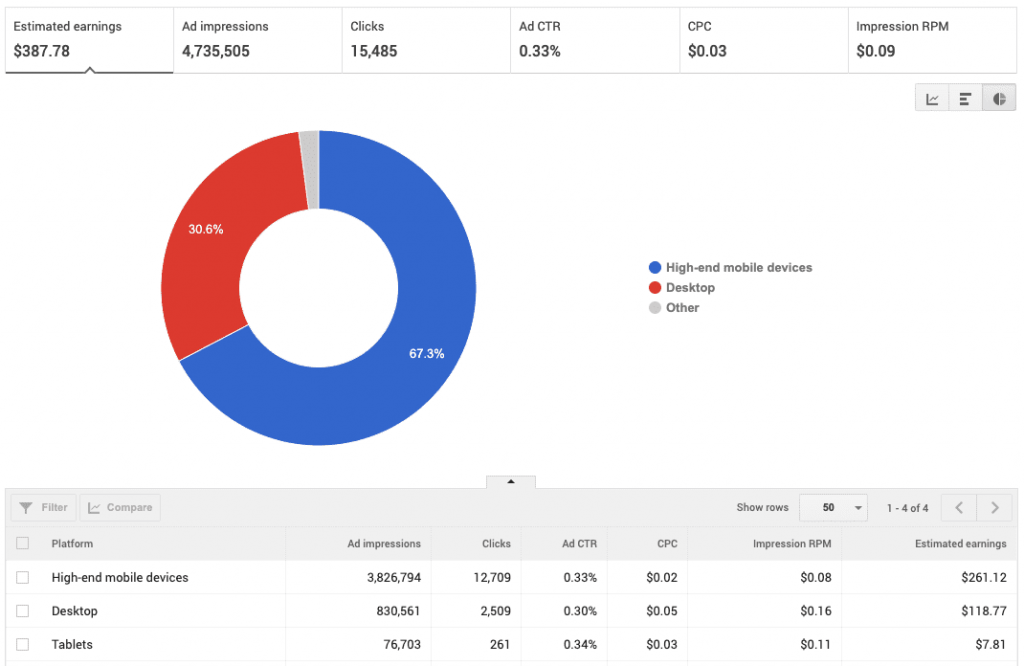 For Bangladesh,you can expect a CPC of-
Mobile- 2 cents
Desktop- 5 cents
Tablets- 3 cents
As you can see, the CPC for desktop remained the highest.
AdSense CPM or CPC Rates in Bangladesh: Targeting Types
There are two primary kinds of targeting for advertisers- contextual and personalized.
Contextual targeting plays an important role in comprehension of what the audience intends to do and shows ads based on that.
Personalized targeting considers data like the accounts the user visited, their interactions and and a bunch of other such factors.
Generally, personalized targeting renders higher CPM rates than contextual targeting.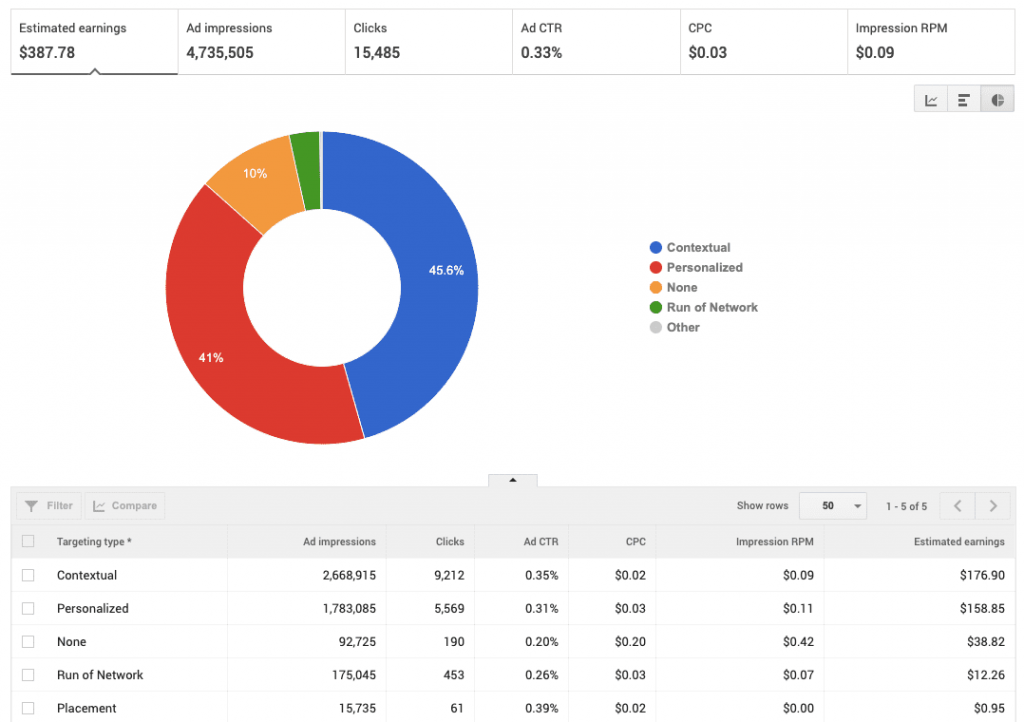 As you can see, the best one shown in the graph too is contextual targeting. Here is a list of CPM you can expect from Bangladesh traffic-
Contextual- 2 cents
Personalized- 3 cents
RON- 3 cents
Placement- 3 cents
None- 20 cents
If you see that higher impressions are being served on Run On Network targeting type, it is an indication that your site is not properly targeted by advertisers and you must add keywords in your articles. RON has the lowest bids.
AdSense CPM or CPC Rates in Bangladesh: Bid Types
To get a better understanding of the ad type that are being shown on your website, you have to positively understand the bid types on AdSense. It is absolutely necessary because different platforms operate differently. While publisher websites are almost flooded with Google Ads from AdWords and DBM, it is absolutely important to understand how both of these work. AdWords is operative on a cost per click model, which DBM operates on a cost per click model. The ad sizes that render the best CPMs are 970×300, 300×600, 336×280, so definitely consider these of your CPM bids are of a good percentage.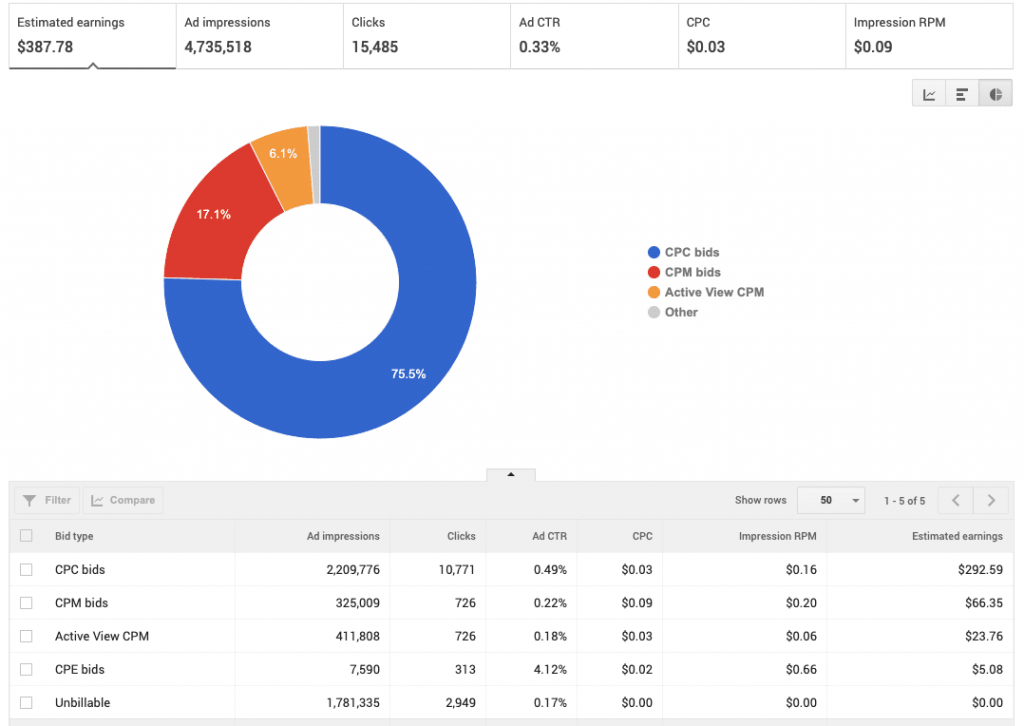 It is important to remember that the bigger the ad size, the better number of ad sizes can be put in, which would hike the overall competition and auction pressure.  These ad units- 900×90, 900×120, 970×250, 336×280 can be accommodated in a 970×300 and that makes 970×300 the better ad size in comparison with 970×250 which fails to accommodate the ad unit of 336×280.
AdSense CPM or CPC Rates in Bangladesh: Creative Types
Despite the less relevancy of this, you must necessarily have some knowledge about the kind of ad creatives being served on your website and what revenue comes from it. At this moment, HTML5 ads have taken the audience by a spur and are becoming increasingly popular, so much so, that the majority of revenue is generated by them only.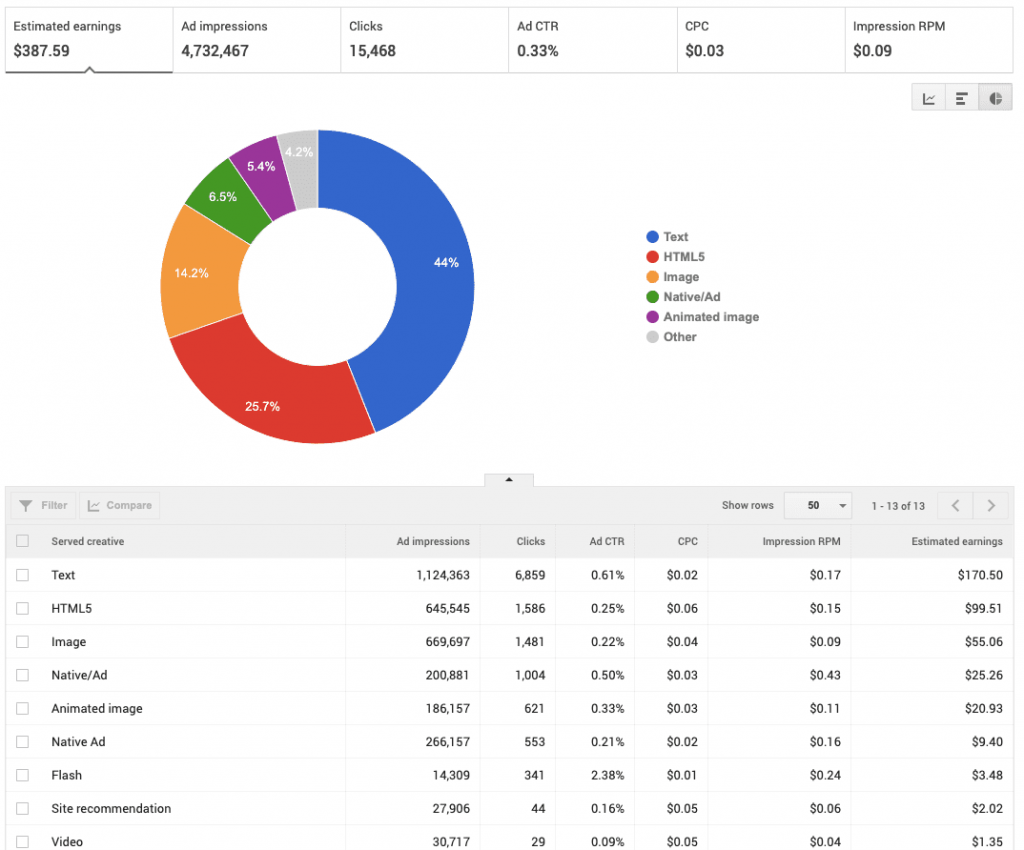 You can see the CPC rates generated by each creative type and that HTML5 generated the highest CPC of 6 cents and Flash, the lowest of 1 cent. You can also see how vastly preferred Text is followed by HTML5 but HTML5 is continuing to gain popularity.
Despite most ads having the same viewability, you can see how native ads have a higher viewability of almost 20% more than what other ads gain. The metric of ad viewability is so important and you can retain CPMs based on that in the long run.
Quick Ways to Increase AdSense CPC or Page RPM
Based on the percentage of device kind- mobile to desktop traffic split, you should work on your ad setup and make a little change.
If most of your traffic comes from Mobile and the same is around 90%- You need to place a 300×250 ad unit-
at the beginning of the content
after the third paragraph of content
in the middle of content
before the last paragraph of content.
If you have some desktop traffic too-  like 30%:40%-
You could make use of 600×300 or 700×300 display ad unit for desktop and 300×250 ad unit for mobile as given in the positions mentioned above. You can do the same with help of Quick AdSense plugin and the ad sizes can be worked with, with use of media query.
If not that, you can make separate ad units of the given sizes and serve them through Advanced ads WordPress plugin. Additionally, use the sidebar as unit of 300×600.
It is strongly recommended to not use 728×90 top bar ad unit.
Final Words: Focus on Keywords and CTR
You need to focus immensely on ad viewability, click-through-rate, and CPC rates if you wish to increase your ad revenue from Google AdSense. You could indulge with high paying keywords by choosing a niche so be careful with that, ad optimize ad placement for better CTR for a higher revenue. Hope this helps.