For publishers, AdSense is undoubtedly one of the best monetization platforms. They deliver the high CPC for niche websites and successfully monetize all of the audience. Here, we will list down the AdSense CPC rates in accordance with countries to give you a fair idea of the CPC around the globe and in various geographies. In the table below, you will get an idea of CPC rates of the country. The data comes from our educational blog that monetizes mostly via AdSense.
In the table below, you will find CPC rates offered by AdSense on the basis countries. You can sort CPC and CTR tabs and see the countries that have the highest CPC and CTR. Other than from site specific constraints, some countries have higher CTR while some others have lower CTRs.
[wpdatatable id=3 table_view=regular]
AdSense CPM Rates for Tier 1 Countries
If you have traffic from tier 1 countries, you can possibly earn good CPCs that would amount to around 30 cents or more. In some countries though, the CTR is relatively lower than the others. Also, some countries have consistent CPC of 30 cents or more. On a SAS niche site, the average CPC for tier 1 country is easily more than $1. Some of the niches garner more CPC than the other. Here, you will find data from our educational blog, for which most traffic is from India.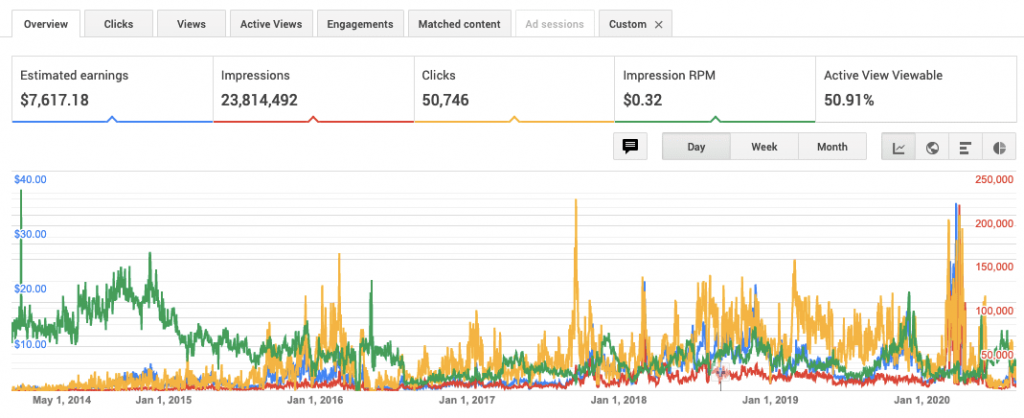 The CPM here, as you can see is about 30 cents.
AdSense CPM Rates for Tier 2 Countries
For tier 2 countries, CPC varies a lot depending on the niche of the site, the conversion rate and quality of traffic. The range of CPCs is around 5 cents to 15 cents. However,depending upon the niche and the content of your website, it can increase or decrease.
In the image above,you can the CPM generated from an educational blog, most of its traffic is from India and the CPM is around 30 cents.
AdSense CPM Rates for Tier 3 Countries
The range of CPM rates for tier 3 countries is limited to 2 or 3 cents and they usually have the lowest CPCs. The primary reason for that is the smaller number of advertisers aiming to target tier 3 countries or that the advertising ecosystem being new there. However, in the coming years, you can expect CPC for such geographies to increase as digital marketing continues to spread.
Average AdSense CPM Rates by Country:2020
You must have a fair idea about CPC from various countries, but here, you only median values which are good and do not consider the outliers. Make sure there are enough impressions and clicks to give a fair idea of your average CPC. Also the average CPC is varying dependent on the ad format- display, in-article, in-feed, linked units, matched content, auto ads, and more. So, you can just know some average numbers here.
How to Increase AdSense CPM Rates?
Via some quick methods, you can have your overall earnings and AdSense CPC rise. The tips below will come in handy and implementing them can result in an increase in your revenue.
Use relevant keywords, ones that advertisers target

Bigger ad sizes lead to an increase in competition, choose them
On your website, place an optimum number of ads
Observe the CTR of the ad with the highest CPC, which is most likely the first visible ad on your webpage.
On doing these, you will notice a significant change in revenue.
This is just an aggregate, but would give you a rough idea about what to be expecting and how to go about with it. Hope this helps.