In order to maximize your CPMs and earnings from AdSense, you need to understand which ad formats, sizes, and ad types work best across which geographies. The best way to understand and validate the assumptions is through proper backing of data. In this post, we are going to see the AdSense CPM rates in South Africa and how we can maximize the overall earning potential for publishers. 
AdSense CPM or CPC Rates in South Africa: Ad Sizes
There are some interesting insights if you closely take a look at the data here. While Google always recommends responsive ad units, we see that the impression RPM of responsive ads is around $0.40 while that of the 300×250 ad unit is $0.64 which is more than 70% higher. Another interesting finding is the 336×280 ad unit usually has a higher impression most of the time, unlike this case. 
300×250: RPM $0.64
336×280: RPM $0.48
Responsive: RPM $0.37
200×90: RPM $0.26
300×600: RPM $0.46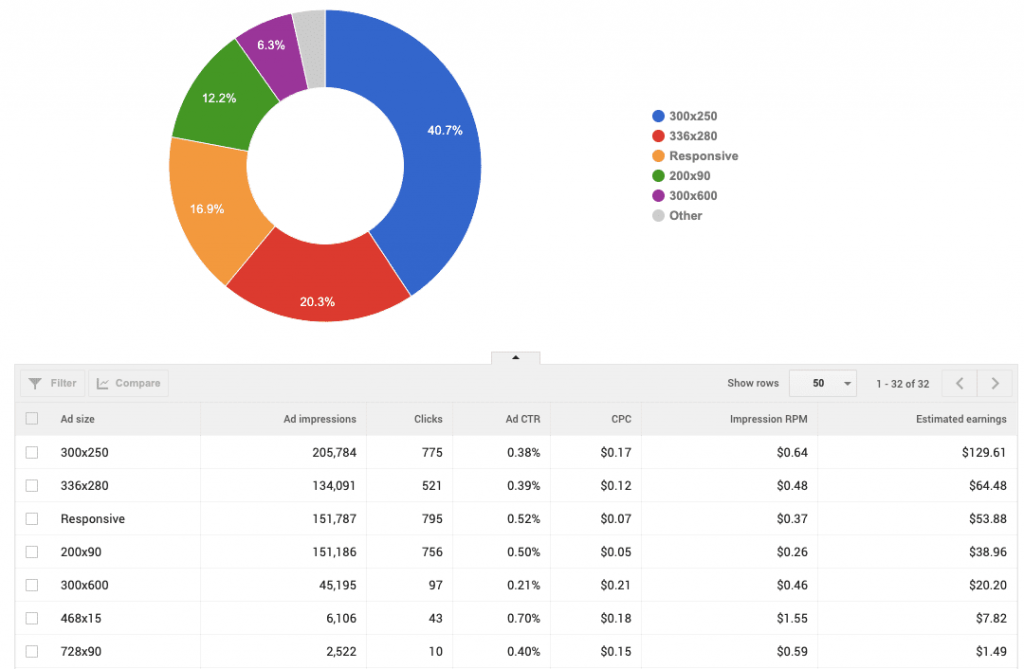 Learnings: Use the 300×250 ad unit to maximize your ad revenue if you have a majority of the traffic coming from South Africa. Also, consider using 200×90 link units for some additional revenue.
AdSense CPM or CPC Rates in SA: Ad Format Types
The CPC and CPM rates that you're going to see here are for South African traffic and the niche of the blog is educational. The common ad formats along with the CPM rates are included here.
Display and Mixed: $0.43
In-page: $0.49
In-Article: $0.62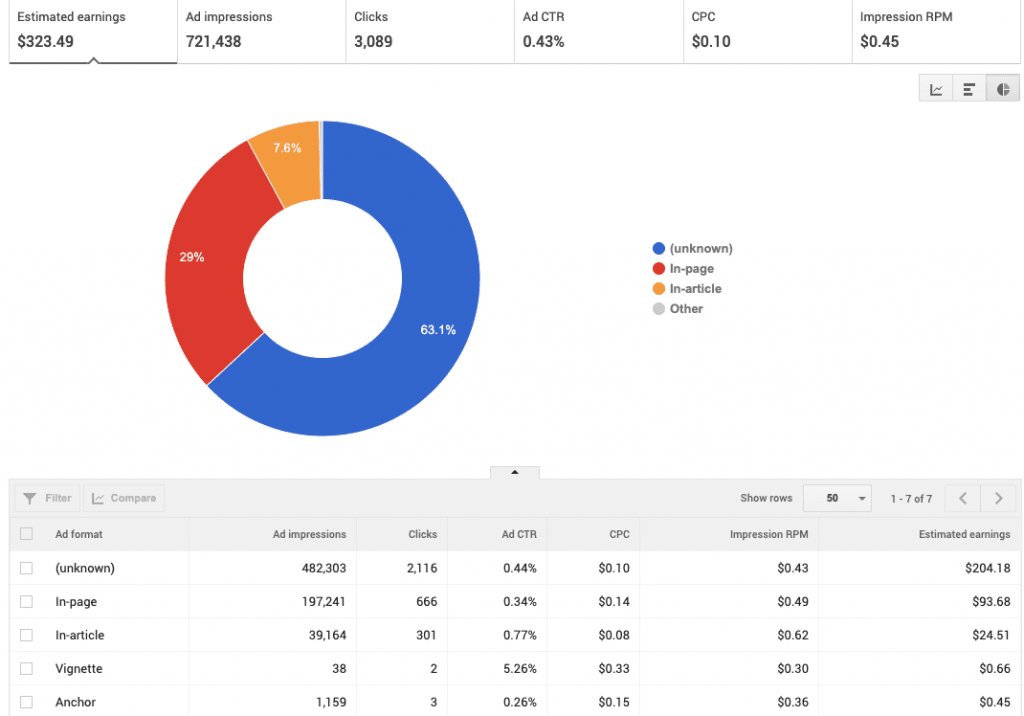 Learnings: The ad CTR for in-article units is comparatively higher which means the native user experience is something which is more rewarding and engaging to the users. Thus, they are more likely to click on an ad that is native in-content.
AdSense CPM or CPC Rates in South Africa: Device Types
Metrics like CPM, CPC, CTR do vary base on the device type. Some campaigns work better on the desktop while some works on mobile and thus the advertiser demand varies. Thus the CPCs can fluctuate a bit, and also the mobile CTR is different than desktop CTR. So I thought of sharing with you the page RPM report based on device types. In most of the websites, the desktop page CPM for AdSense will be higher when compared with mobile. 
Desktop: CPC $0.14 | CPM $0.62
Mobile: CPC $0.07 | CPM $0.32
Tablet: CPC $0.11 | CPM $0.29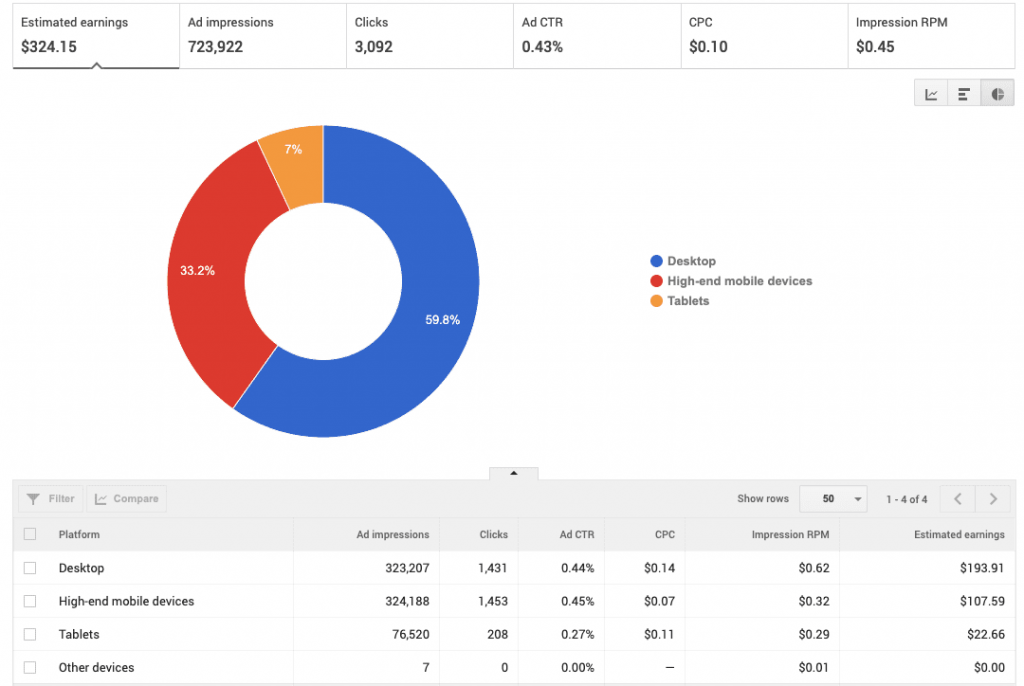 AdSense CPM or CPC Rates in SA: Targeting Types
Google offers two major targeting types for advertisers- contextual and personalized. Contextual targeting is relevant to understand the intent of the audience and show relevant ads. While personalized targeting takes into account the websites visited by the users, interactions, and a host of other factors. Usually, the CPM rates for personalized targeting is higher in comparison to contextual targeting due to better ROAS. Here you can take a look at AdSense CPM rates filtered by targeting type.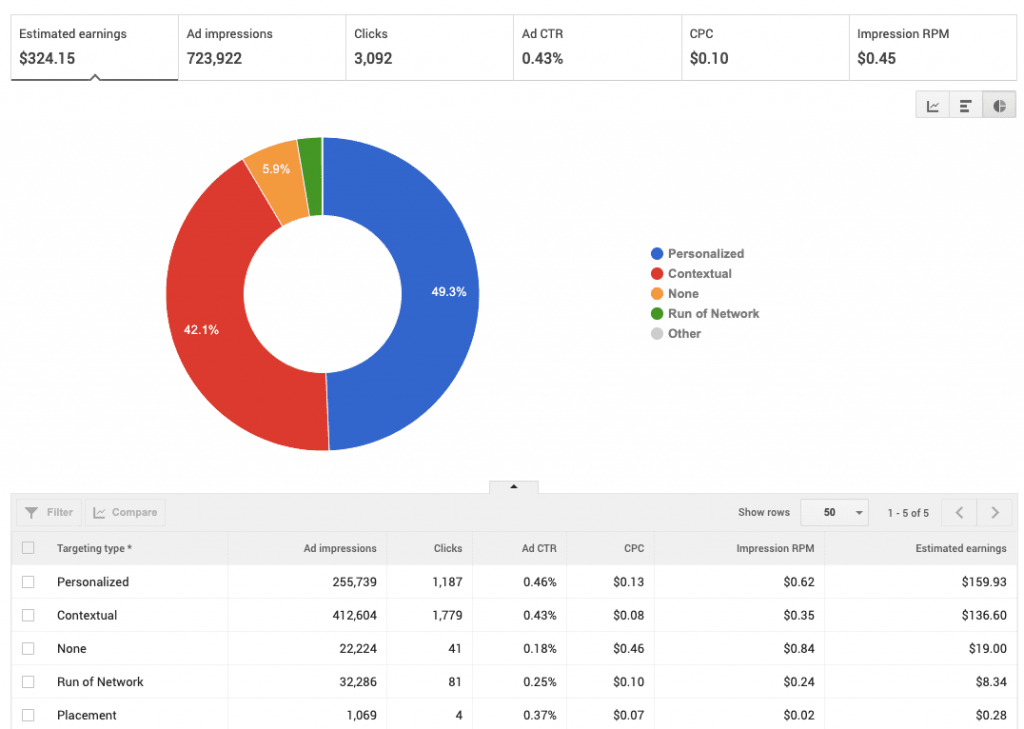 Learning: If you've higher impressions served on RON targeting type, it means that advertisers are not been able to target your site and you should consider incorporating keywords on your articles. 'RON' means run on network and these types of ads have the lowest CPC rates and CPM bids.
AdSense CPM or CPC Rates in South Africa: Bid Types
Understanding AdSense rates based on bid types are important because it gives you a better understanding of which ad types are showing on your website. Google shows ads from AdWords and DBM on publisher websites. While AdWords works on a cost per click model, DBM works on a cost per mile model. So, if you have a good percentage of CPM bids, you should consider using ad sizes like 970×300, 300×600, 336×280 since these ad sizes have the highest CPM.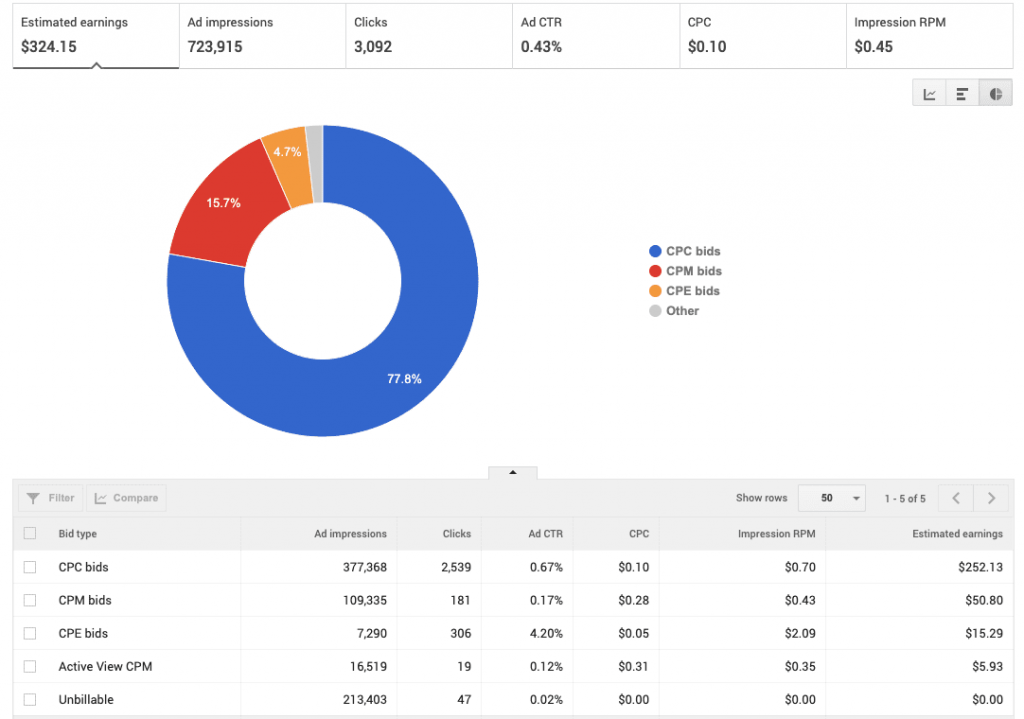 Learning: The impression RPM for CPC ads is much higher compared to CPM ads despite a much higher CPC. However, there is nothing much we can do here because the bids are determined by Google.
AdSense CPM or CPC Rates in SA: Creative Types
Honestly speaking, this is not very relevant, however, I think that you should just have an idea of what type of ad creatives are served on your website and the revenue they are generating. Usually, it used to be text and image-based ads in the early days, however, we see a lot of HTML5 ads now and the majority of revenue is generated by them.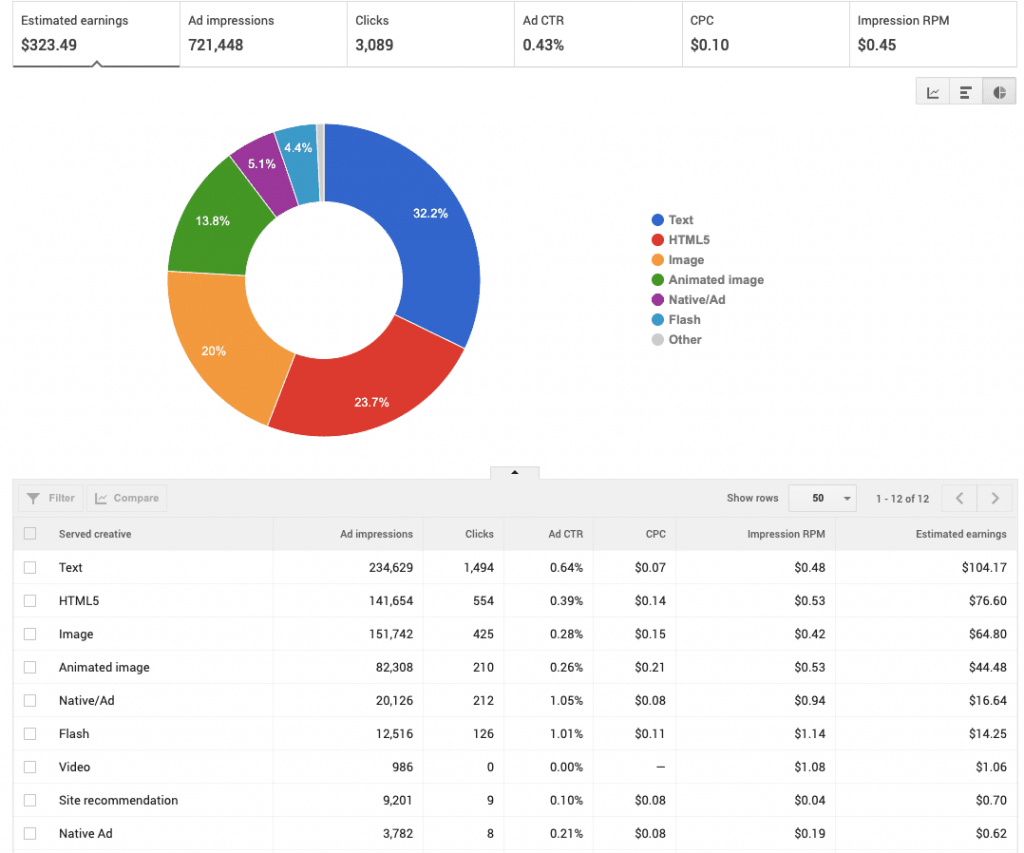 Learning: A closer look here shows native and flash ads to have the highest impression RPM followed by HTML and Image ads. 
Tips to Increase AdSense CPC and Page RPM for South African Traffic
Your ad setup should be tweaked depending on the percentage of your desktop: mobile traffic split. 
Use a plugin like Quick AdSense or Advanced Ads to implement the ad codes. As we have seen, the 300×250 ad sizes give the highest rates, so use that ad size for most of your units. Make sure to run AdSense native ads to maximize your CTR and overall earnings. On the desktop, you can place a 300×600 sidebar ad unit as well.
Your First ad unit should be placed right below the article title

Second ad unit after the first paragraph
The third ad unit is recommended after the third paragraph of the content. It is recommended if the majority of your traffic is coming from mobile.
The next ad unit can be placed in the middle of the content if you've long-form articles or just above the last paragraph for short articles.
Note: I recommend not using a 728×90 top bar ad unit. Place a 300×600 sidebar ad unit. 
Final Words: Focus on Keywords and CTR
The key things to keep in mind when increasing your ad revenue from Google AdSense are ad viewability, click-through-rate, and CPC rates. Choosing a niche can help you with high paying keywords and then optimizing your ad placement for better CTR can give you higher revenue. Hope this topic was helpful! Do like our Facebook page so that we stay connected.